Headlight Restoration
How do you restore headlights?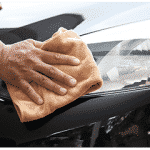 1) Strip the old coating entirely off the lens via sanding and polishing
2) Uniformly apply a coat of nano-ceramic coating
3) Once the coating is entirely cured, you have a crystal-clear and protected headlight
Are your headlights getting yellow, dull or foggy?
Our Headlight restoration service gets rid of dull, yellowed headlight lenses! We can clean and restore your headlights, tail lights and fog lights with  our progressive wet sanding and polishing methods for optimum clarity. Safeguard yourself and your vehicle while improving its look.